LOW MAINTENANCE. HIGH QUALITY. GUARANTEED.
FPS 400HPA PORTABLE AUTOMATIC LOW PROFILE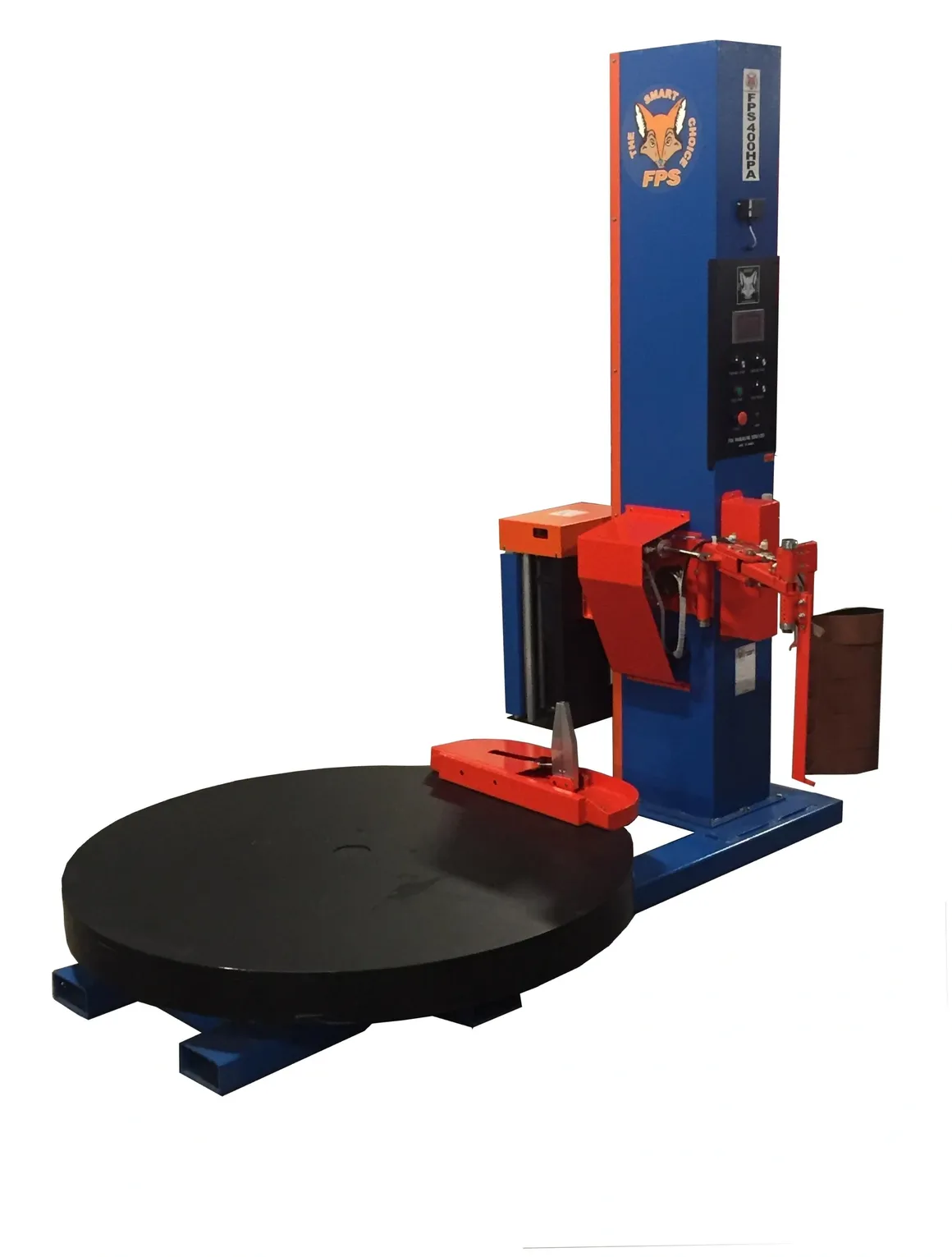 FPS 400HPA SPECIFICATIONS:
AUTOMATIC FILM CLAMP, CUT AND WIPE
Patent Pending 'No Hotwire' film cutter system cuts and wipes film without the use of heat or electricity!
PRODUCTION SPEED:
1-40 LPH*
LOAD SIZE
50"L x 50"W x 82"H (70" Diagonal)
WEIGHT CAPACITY
5000LBS
STRUCTURAL
WELDED STEEL CONSTRUCTION
TURNTABLE DRIVE
3/4HP AC MOTOR & DELTA 1 HP VFD
20:1 CFC63 SERIES
4 HEAVY DUTY SWIVEL CASTERS
TURNTABLE SPEED
0-15RPM
CARRIAGE DRIVE
3/4HP AC MOTOR & DELTA 1 HP VFD
FILM DELIVERY
HURRICANE PRE-STRETCH CARRIAGE
FILM ROLL
20" MACHINE FILM, 3" CORE
POWER REQUIREMENTS
115VAC, 15A, 60Hz- PLUG AND PLAY
AIR REQUIREMENTS 
80 P.S.I. @ 3CFM
ONBOARD PROGRAMS
STANDARD WRAP CYCLE
STD W/TOP COVER PAUSE
WRAP UPWARDS ONLY
OPTIONS 
*Loads Per Hour - May vary depending on load sizes,  loading/unloading speeds, and number of wraps or wrapping pauses on  load.
CONTROL FEATURES
• Automatic film clamp, cut and wipe
hotwire cutter system
• 32 I/O PLC (Programmable Logic Control) by 
Delta
• Full color 7" touch screen display by DELTA
(providing function control viewing)
• Remote control start / emergency stop Key- Fob 
Or landline (*subject to local safety regulations)
• Variable Turntable Speed 0-15 RPM
• Variable Film Carriage Speed Up/Down Control
• Separate Top/Bottom Wrap Selectors 1-9
• Separate Film Height Selector 1-9"
• Flush Mounted Control Panel (built into tower)
• Cycle Counter
• Manual Carriage Raise/Lower Control
• Turntable Jog with Auto Home Alignment
• 3 different on board wrap programs
• Large Emergency push button power On / Off 
Switch with indicator light
• Start Cycle Push Button
• Standard Wrap Up/Down Program
FILM DELIVERY SYSTEM
• HURRICANE THREAD 20" prestretch film delivery system
• 200% factory set stretch (50-300% available upon request)
• Easy thread film carriage
• Electronic film force control on panel
• Adjustable mechanical force to load
• Linear analog proximity sensor film feed speed control
• 3/4HP AC MOTOR & DELTA 1 HP VFD
• Triple beam auto height eye capable of recognizing 
all colors including black
CARRIAGE LIFT
• UHMW supports providing effortless
movement and maximum stability (Qty4)
• Heavy duty ANSI #50 chain carriage lift
• 3/4HP AC MOTOR & DELTA 1 HP VFD / 60:1 GEARBOX
• Carriage chain fully guarded
TURNTABLE DRIVE
• 0–15 RPM Table Speed
• 3/4HP AC MOTOR & DELTA 1 HP VFD / 20:1 GEARBOX
• Adjustable electronic soft start / stop
• Positive home position alignment
• 4 heavy duty swivel casters
LOW MAINTENANCE. HIGH QUALITY. GUARANTEED.